The 2010 Canadian National Master was held in Balmoral
Manitoba
and hosted by the Manitoba Gun Dog Association
The judges for the 2010 event were:
GASTON LAMOTHE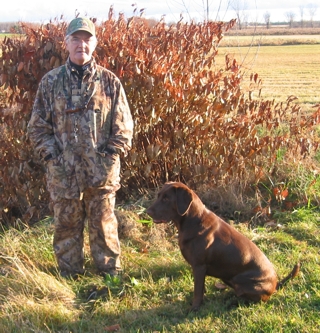 I was born close to the
St-Laurent
River
in
Quebec
. I grew up on a farm and began hunting ducks and Canada Geese when I was 12 years old. I purchased my first lab in 1977 at 28 years of age and have owned
Labradors
ever since. Originally I started running CKC competitions as well as the NAHRA tests. Once the CKC adopted the hunt test program I have been very active with running my dogs in all levels of the hunt tests. Both my wife and I are very involved with the dogs. I was one of the original founding members of the Monterégie Gun Dog Club in 1989. I look forward to judging the 2010 National Master Hunt Test and Good Luck to all participants!
TIM MARSHALL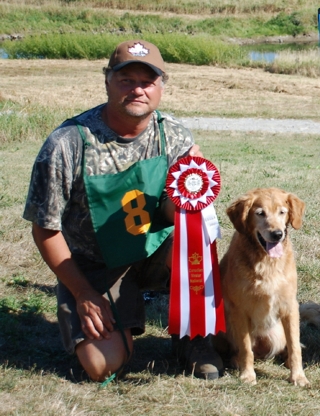 This journey all began in 1977 when the family acquired a Golden Retriever, called "DC", who Tim was to take to Obedience class...and as they say "he caught the dog training bug".
Tim Marshall and his Golden Retrievers have competed in the obedience ring, he has an appreciation for the conformation ring but his passion lies in the field! Tim's all-round Golden Retriever, and first true hunting partner was Tar.
CH OTCH Targus Good Enough, WCX – GRCC Hall of Fame Dog (born in 1985). Then there was Win, OTCH Wynwood Marshgold Magic, JH, WCI, Am UD. She could quarter and fetch, which is all he needed to do, (born in 1989). Now there is Gander. NMH, GMH, UH, HRCH Eddystone Take A Gander, WCX, CDX, (born in 2000). And the new kid on the block is SHR Amigold Texas Hold'em, WCX, JH, (born in 2007). Tim enjoys training his dogs in preparation to participating in Hunt Tests, Working Tests and HRC Events.
He is an avid hunter of pheasant and water fowl, and is an active member of Horseshoe Hunting Retriever Club and Luther Marsh Hunting Retriever Club. Tim is a member of the CKC, GRCGT (Golden Retriever Club of Greater Toronto) and a Life Member of Hamilton Obedience Club. He is qualified to judge all levels of Hunt Tests and Working Tests.
Tim resides in Guelph, Ontario, with Barb and her two dogs, rounding out the household to four Goldens, and making life a busy one. Tim would like to acknowledge it is an honour and a privilege to judge the Master National. He would like to thank the Master National Club for this opportunity and wish all of the competitors
Good Luck.
LYN SAUNDERS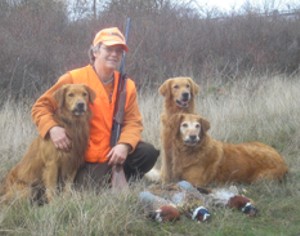 My Dad started taking me pheasant, duck and deer hunting when I was about 5 years old. I won't say how long ago that was other than it was in the 1950's. I loved hunting from the start. In 1982 my husband Spencer and I were given a Golden named Tuk. Tuk was a retired all-age open dog and he opened a whole new world for me. I had no idea that a dog could be taught anything beyond basic obedience. The first day of our first hunting season together, Tuk ran a 350 yard blind retrieve and collected a crippled pheasant for me and I was hooked forever. Spencer and I soon discovered hunt tests and we've been training, handling and judging retrievers at NAHRA, AKC, HRC and CKC hunt tests for a long time. I love the dogs, the people and this game. I'm honored to be asked to judge this year and I'm looking forward to seeing some great dogs in
Manitoba
.